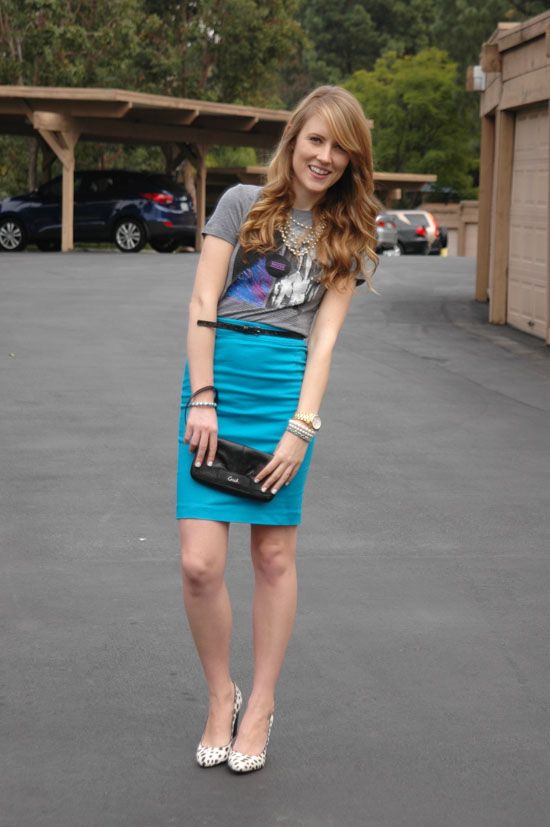 My Threads: Tee: Muse Concert, Skirt: H&M (
similar
), Wedges:
INC via Macy's
, Clutch: Coach (
similar
), Bracelets: J.Crew, Forever 21, Old Navy, Necklace: Forever 21, Belt: Forever 21
In case you missed
yesterday's post
about this Muse tee, I forced myself to come up with two ways to style this while standing in the merchandise line at their show. The reward? Letting myself buy a $35 t-shirt.
Here's the second outfit I came up with in my head. I kind of have a feeling only bloggers do this. When I confess things like this to other people, they sometimes look at me like I'm a little crazy. Or a little obsessive. I just have to explain it's a blogger's mindset. We're always planning outfits! But then they just think I'm nerdy for blogging. Maybe I'll just stick to telling all the amazing people in the blogosphere my amazing stories.
Also, I think I squint more when it's cloudy out. Is that weird? I think my eyes are used to California sunshine, and they just get really confused when there are clouds in the sky. Sorry about my slightly squished up faces.
Thank you so much for reading, and have a fabulous Friday!
P.S. You can follow along with my weekend and daily adventures on instagram @adevinelife. I actually use it now!